PHARMACY SERVICES:
San Felipe has many pharmacies which carry all the usual medications, though often under a Mexican drug name. San Felipe is becoming a retirement destination, and because of this you will find specialization in products for the elderly such as medicine for blood pressure, back pain, skin balms, etc. Most drugs are available wihout a prescription. You can pick up a bottle of antibiotics or ibuprofen. Do not try to purchase narcotics here, Mexican law is very tough when it comes to such pain killers. Most pharmacies do not carry such drugs, You would have to go to the hospital for them.

You will also find many local Botanicas - stores that specialize in herbal remedies. They frequently have excellent teas and various roots and tinctures that can bring relief for minor aches and pains.

BOTICA SAGRADO CORAZON
Mar de Cortez #170, San Felipe, B.C. Mexico
(next to Bancomer, across from the Rockodile Store)
Phone: 011-52 (686) 577-1294
Open 8 a.m. until 9 p.m. every day

English spoken here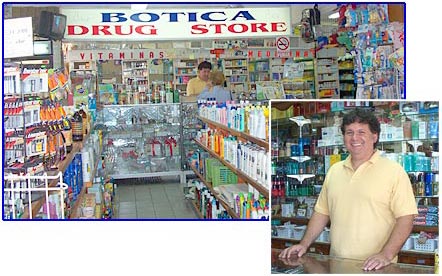 The drug store is family owned and operated by Tavo Garcia and has been in operation at this location since 1952. They offer a wide variety of items including perfume, gifts, make-up, baby clothes, turtle cream, baptism and first-communion accessories.

Throughout these years BOTICA SAGRADO CORAZON has developed a trusted name in the community, and is popular with the Snowbirds that arrive for the winter season. Many drugs issued under prescriptions in the U.S. do not need prescriptions here, but some may require doctors prescription. So please check with them.

Stop by Rancho El Dorado every Friday night and see Tavo wailing on the drums in the popular local band "Third Generation."

MARY'S PAHARMACY:

Mary's - Los Algodones
Farmacia Alex - Mexicali
Hours for Mary's
Monday-Saturday: 7 a.m. - 6 p.m.
Sunday: 8 - 5 p.m.
(Arizona Time)



They offer the best prices in town and the Baja. Half the price on some medicines sold in San Felipe. They have weekly specials on certain items, so check with them.

Directions:

There are two ways to get to Mary's:

From San Felipe, follow the signs to Mexicali and take the Algodones exit.

Or, from San Felipe, you can cross the border at Mexicali and head towards Yuma, Arizona and take the exit there. The savings are well worth the drive. If you're coming from Phoenix, take the Algodones exit.

Can't make it to Algodones? Don't worry!! Mary's will mail or send your medicine by bus. Simply deposit the correct amount into their account and your package will arrive pronto.

Also in Mexicali.